Flexible Solutions. Personalized Expressions.
Designed to be accessible, priced to be attainable, and constructed to be sustainable – affordable kitchen and bathroom cabinets from Homecrest® make your ideas a reality – transforming your space into a happier, more organized home.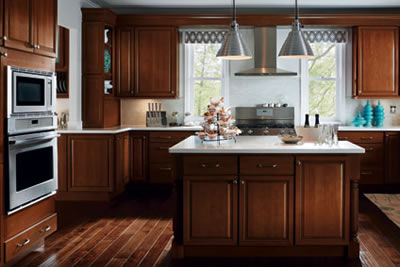 Well, Imagine That
Have an architectural nook to fill? Need to work around a load-bearing column? Or maybe you just want to be unique. We know that every home has different needs, and every person different tastes. That's why we offer Custom Choice™, Homecrest's exclusive program that takes you places that exist only in your imagination. It's a level of flexibility that separates us from other cabinet lines at this affordable price.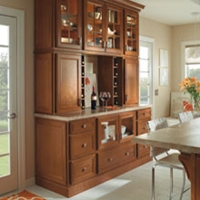 Our Cabinets, Your Creativity
With Homecrest's flexible manufacturing capabilities, you can create the specific cabinet you need. Using standard doors and drawer fronts and ensuring that the cabinet is structurally sound, Homecrest will modify any cabinet in our offering.
Solutions-Oriented Cabinetry
In this hutch, the homeowner desired a deep glass door cabinet to hold her large serving dishes. The solution: An increased depth cabinet with a glass door attached to the top of a functioning deep drawer created a Custom Choice offering to fit the space and meet her needs.